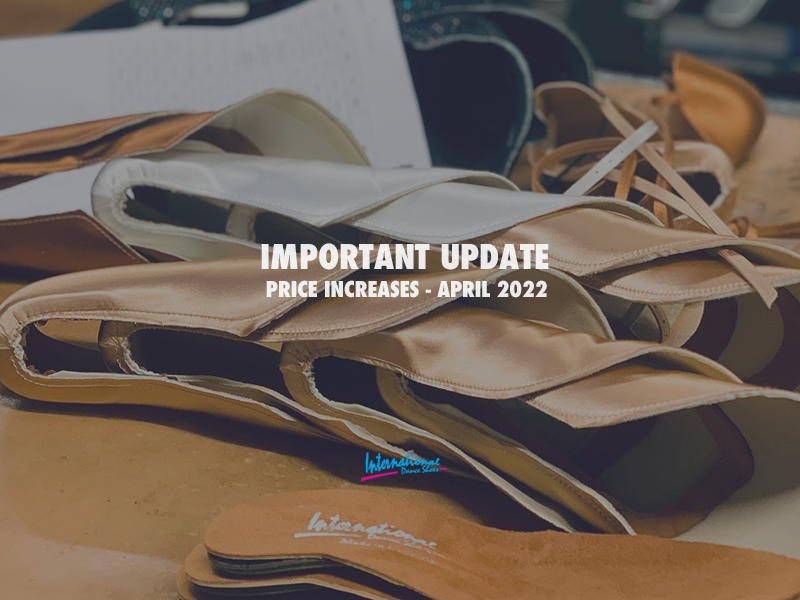 Price Increases - 1st April 2022
This is a heads up that as of the 1st April, our prices will be going up for International Dance Shoes products. It's our first price increase since September 2017, nearly five years ago.
So much has happened since then, especially in the last couple of years alone and we've done our very best to be smart and absorb cost increases as much as possible but sadly the time has come where we have to pass some of the increases on.

Very few businesses have enjoyed the last couple of years and like many, we've had to work extremely hard to navigate our way through what now seems like a never ending barrage of unprecedented, once in a generation challenges. The pandemic has impacted our industry immensely, whilst Brexit has made it tougher and more frustrating to do business with our European neighbours and amidst a global energy crisis, we are now saddened to see our Ukrainian friends suffering in such catastrophes that have no place in our world today.

We've been hesitant to pass increases on because we're conscious to the fact that everyone has had their own challenges in the last couple of years. We understand some brands have already implemented large increases and whilst we've known ourselves for a while that we've needed to increase our prices, we believe that it's been important to demonstrate as much empathy as possible and hold off for as long as we could.

We appreciate that there's never a good time for increases, and any time since the Covid-19 nightmare begun in early 2020 is an awful time but we're afraid that after trying to absorb as much as we can, there is simply too much pressure and the time has come.

We hope you can understand. As always, we maintain 100% committed to making the best shoes, using the finest materials and components to make every step you take on the dance floor a joy. We continue to be made in Britain and we will continue to work hard to constantly improve and evolve not just in our products but in our service too.

We wanted to give as much notice as possible to allow time for you to order anything they need before the price increase.

Thanks for choosing us, and thanks for your understanding.

Justin, Rashmi, John, Julie, Sandra, Lewis & Everyone @ International Dance Shoes
If you wish to contact us then click here to email us, or call us on +44(0)1908 319937.
For more updates and to see more about our new shoes, click here to follow us on Instagram and click here to join our mailing list!